A-Z Guide to Whitby – Abbey & Artists
Whitby Abbey
No guide to Whitby could ever be complete without the history of the Abbey. After all, without the Abbey, there would be no Whitby. 
There are lots of places to find out about the history of Abbey. We've already covered the history in our blog A Brief History of Whitby Abbey, but we're going to just give some highlights of its history here. 
The Abbey, established in or before 657 A.D., was incredibly important, as it was a foundation of the royal house of Northumbria, the most powerful of the kingdoms of England at the time. A large community was established there and prospered for the next two centuries. In the end it was the invasion of the Danish Vikings which drive out the community and led to the abandonment of the Abbey. The Abbey was home to Caedmon, the earliest poet whose name is known. In 1993 English heritage excavated the Abbey, and a full breakdown of its history can be found on their website here.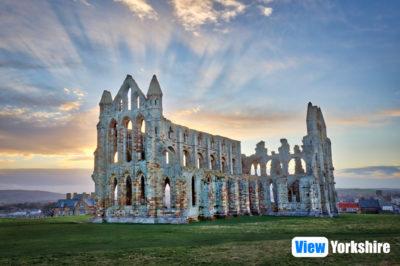 Artists
For as long as Whitby has existed it has inspired artists. From poets to storytellers, painters to sculptors the inspiration drawn from Whitby is never-ending.
With its picturesque setting in the North Yorkshire coastline, Whitby has attracted a number of important artists. Probably the best known being J. M. W. Turner. His 1824 work "Whitby" hangs in the Tate museum. though it is a piece which is not appreciated by all, due to it being not lifelike in its view of the East Cliff. 
As well as being an inspiration for many visiting artists, Whitby has produced many of its own artists. 
J.R. Bagshawe (1870-1909) is best known for his illustrations for a series of articles for The Field and Yachting Monthly. These were later gathered into a book named The Wooden Ships of Whitby published in 1933. The book gives an account of the fishermen and fishing in the North Sea. 
If we move into the present day, artists are in abundance in Whitby and in the surrounding villages. It is fair to say that a large percentage of the population of Whitby is connected with the arts, in many forms. 
As so many artists reside in Whitby and the surrounding villages, we have listed some of our favourites. This list however, is definitely not exhaustive with new and exciting artists emerging here every day! 
We couldn't finish our blog on the artists of Whitby with mentioning Staithes, a small coastal village 17 miles from Whitby. The Staithes Festival of Arts & Heritage exhibits around 100 artists, and is free of charge to attend. The artwork is exhibited in temporary galleries, in cottages, houses and public spaces throughout the village. Find out more about the festival at https://www.staithesfestival.com